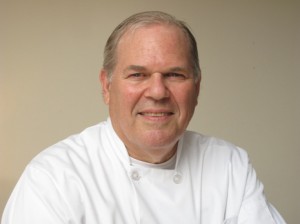 Alan Zox has been a professional chef for over 25 years, spreading his joy and expertise in cooking as a restaurateur, educator, caterer, and columnist. His passion for food comes from growing up in Des Moines, Iowa where he and his family celebrated the art of cooking at holidays, family gatherings, and special occasions under the influence of his Lithuanian grandmother. Food was at the center of their lives
Chef Zox earned his PhD and two Masters degrees in Cultural Anthropology and Sociology at Rutgers University, followed by a decade-long college professorship. But his true passion was cuisine, and after attending the Culinary Institute of America in Hyde Park, NY, Alan founded an award-winning gourmet restaurant nearby. He eventually expanded his operations to catering and culinary teaching, as he continued to cook throughout the New York and Boston areas in Four-Star restaurants, popular cafes, and various catering businesses.
Most recently, Alan has combined his passion for food with his skills as an educator, running culinary workshops that focus on international cooking and culture. These workshops journey from the
old-world cuisines of Italy, France, and Mexico to the newfound tastes of the Middle East, China, and the Pacific Rim.
His students enjoy reading about these workshops in his weekly food column, which focuses on an international mix of healthy nutrition, new recipes, and seasonal food specialties. The column is published in community newspapers throughout New York and Massachusetts