Serves four hungry eaters
Many of us are getting a little stir crazy, staying in our homes during this pandemic. A friend that I often share recipes (and used to have over to dinner often), suggested a virtual dinner together. We both cooked this recipe and selected a nice chardonnay and set down to eat with our laptops so we could 'sit across' from each other. To make it even more interesting we each traded a plate of our cooked version (I drove over to his place and we exchanged food boxes just before our dinner, so our plates were still warm and just needed two minutes to heat up before our virtual dinner. What was very interesting is that we both used this same recipe but there were some clear differences when tasing both dishes. Ironically we both liked the other's version better!
Ingredients
1- 4 lbs. large frozen shrimp shelled and unfrozen
2- 18 small clams steamed in water
3- 28 ounces fresh tomatoes
4- Two 28-ounce cans of San Marzano
5- Two small cans of Italian tomato paste
6- 2 cups clam juice
7- 1 cup chicken broth
8- 2 cups marinara
9- 1 medium size onion
10- 10 fresh basil leaves
11- 4 garlic cloves, minced and diced
12- 1 cup dry white wine
13-   3 Tbsp. extra virgin olive oil
10-   1 Tbsp. salt
11-   1 Tbsp. fresh black pepper                                     
12- 1 cup diced parsley
13- Freshly squeezed juice of 2 lemons, removing the seeds
14- 2 lbs. linguini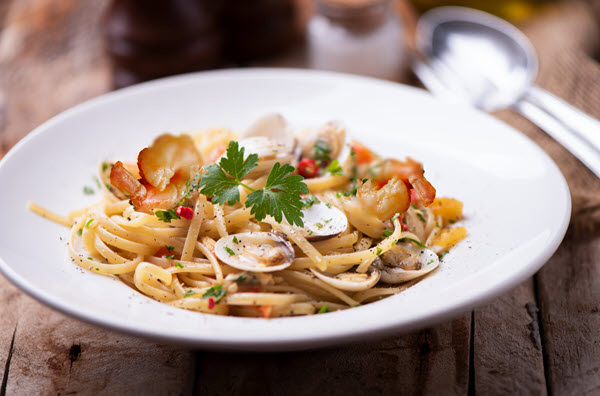 Steps to follow
Prepare frozen shrimp by slowly running cold water over any frozen in a large bowel until completely defrosted. Remove the shells from the shrimp starting from the tail. Leave the heads on and place the bowel in the fridge not the freezer.
Shell unfrozen shrimp and sauté in a large sauté pan.
Mix clam juice, chicken broth with marinara and cook together with tomato paste.
Mince garlic cloves, dice onion and cut basil leaves into thin slices.
Boil linguini until al dente – set aside and cover.
You can steam frozen clams with water or clam juice or other natural juices such as chicken broth until all of them open. This makes the process quicker and easier. Set aside, and immediately cover the bowl with plastic wrap and place in the fridge.
Next, sauté the garlic and the diced onion with olive oil. Add basil leaves, and the oil and garlic to a large sauté pan with San Marzano tomatoes and tomato paste. Heat all these ingredients together for 30 minutes white adding lemon juice.
Add the clams to the Marinara sauce when you are ready to heat them up. Leave them in the hot sauce no longer than 10 minutes. When you are ready to eat them with the shrimp, add the shrimp to the Marinara sauce to cook at a low temperature for 15 minutes while adding the white wine. Serve with sauce, shrimp and clams over linguini. And that's it.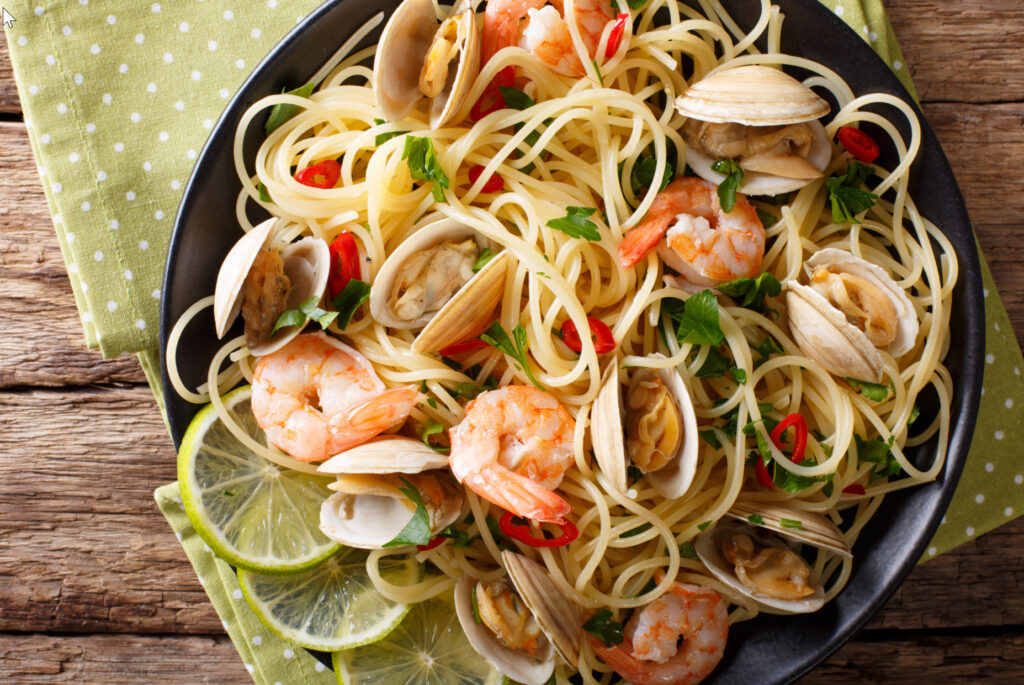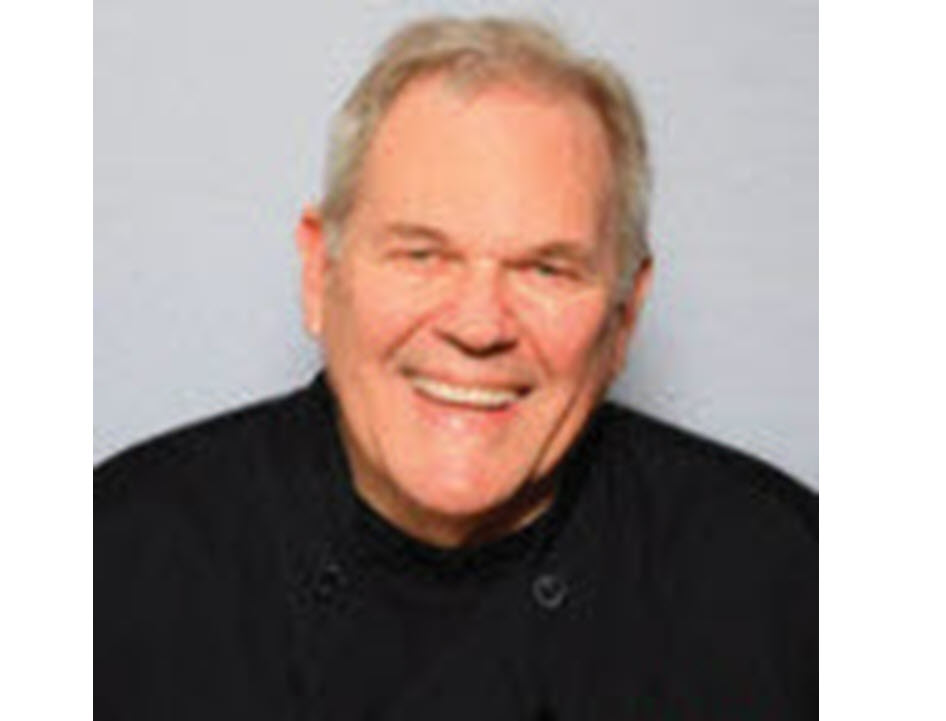 Send questions or your favorite recipes directly to [email protected] I Iook forward to hearing from you. Chef Alan