Serves 4-6- <
My Aunt Betty gave me her recipe for a casserole that she made for us on one of her visits whan I was a child. She told me she loved making it as she always had a small glass of Grand Marnier to sip on while it baked. She kept the recipe in a little wooden box where she keeps all her favorite recipes. She showed it to me, with all its handwritten 3×5 cards, many years ago. She told me she is not a rich woman, but when she dies she has put that box in her will to go to me, because I have always been so excited about her recipes.
Ingredients:
Grand Marnier Orange Liqueur, 3 oz. ;
Substitute for Liqueur can be non-alcoholic Orange Extract, 3 oz. ;
Zucchini, ½  Cup ;
Corn, 1-2 corn cob ears ;
Onion, 1 medium size ;
2 Garlic cloves ;
Garlic goat cheese ( ½ cup, cut into ½ -inch cubes) ;
½  cup fresh mozzarella ;
½  cup of panko- rice flour ;
½ cup water ;
Kosher salt, 2 Tbsp ;
Black pepper, 1 Tbsp ;
One red Jalapeño ;
¼ cup Extra Virgin olive oil ;
Steps
Thinly slice Onion
Dice red Jalapeño, after removing the pulp and seeds
Dice garlic cloves
Cut mozzarella into 1-inch cubes
Slice kernels from the corn cob ears
Cut garlic goat cheese into 1/2-inch cubes
Peel and sauté zucchini
On the stovetop, heat a drizzle of olive oil until hot, add the garlic, onion, jalapeño, panko, and zucchini, add half a cup of water and cook 8-10 minutes until brown and softened.
Using a large spoon, add the cubes of mozzarella, and goat cheese throughout your platter.
Finish the dish by sprinkling the top of the casserole with the corn kernels and place the entire dish in the oven at 350 F for 30 minutes .
Check on the dish after 20-25 minutes and add the Grand Marnier Liqueur over the entire dish, when the top of your platter is lightly browned and all cubes of cheese are close to melting.
Cook for 5-7 more minutes if not melted enough.
Enjoy!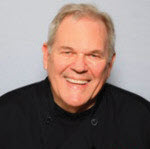 Send questions or your favorite recipes directly to [email protected] I Iook forward to hearing from you. Chef Alan