20 min to make
4-6 servings
Sauces serve to make average dishes more flavorful and special. Yet sometimes meals with sauces are too time consuming and overly caloric.
Still it's nice to have a few sauces in your Grab Bag of flavor enhancers. Virtually every culture has its favorites. I have several I enjoy with the seasons of the year.
Here's a few others to consider besides today's recipe of Chimichurri.
French sauces specialize in six basic "mother sauces" including Béchamel, Velouté, Espagnole, Tomato, Hollandaise and Mayonnaise Sauce. Their popularity is only exceeded by the many dishes they complement.
Italian sauces are popular for their many different tomato sauce used with fresh vegetables. Another is Pesto sauce made with basil and pine nuts or walnuts. And Cheeses with pasta of different kinds are no less delicious. I particularly enjoy Parmigiano-Reggiano with spaghetti and meatballs, or Pasta and Bolognaise.
To the surprise of many "Tex Mex" lovers, Mexican Sauces vary by region. The most famous is Oaxacan cuisine popular in southern Mexico specializes in seven different varieties of sauces called mole.
Seven Mexican Mole Sauces
Mole Poblano (Red Mole) is the most well-known. This sauce uses chiles like poblano, dried fruit and nuts but relies less on chocolate.
Mole Verde uses pumpkin seeds, cilantro, tomatillos, and jalapeños. Fresh herbs are used instead of chocolate.
Mole Negro or black mole uses chocolate and spicy ingredients like cinnamon, cumin and the licorice tasting herb called Hoja Santa.
Mole Chichilo uses a beef stock in the sauce, making it perfect for braised dishes. Chile guajillo and ancho chiles take the place of chocolate, while corn flour called masa thickens the mixture.
Mole Amarillo is made without sweeteners like chocolate. It a spicier mole than most. It's thickened with masa harina or corn flour.
Mole Coloradito contains the same base as chocolate with chiles, spices, fruits and nuts along with sweet plantain which looks like a banana.
Mole Manchamantel uses pineapple, tomatoes, and chorizo in the sauce. The appearance of this sauce is bright red. In fact, manchamantel translates to "tablecloth stainer" because this sauce does stain.
The food of many regions of Latin America complement Mexican cuisine but are unique by themselves. For example, Puerto Rico, Brazilian, and Argentinian cuisine all feature the wonder of Chimichurri, a green salsa-like sauce that complements steak, chicken and seafood.
Argentine Chimichurri Sauce
Roughly chop one cup Italian parsley in a blender- do not puree.
3 to 4 cloves garlic, minced
1 tsp salt
1/2 tsp freshly ground pepper
1/2 tsp chili pepper flakes
1 tbsp fresh oregano leaves
2 tbsp shallots or Hawaiian Sweet onion
3/4 cup olive oil – add more if too thick
3 tbsp sherry wine vinegar, or red wine vinegar
1 tsp cayenne pepper
1 tbsp salt
2-inch long baguette
Directions
Add all ingredients to your blender and pulse briefly once or twice. Pour into a small bowl. Use a separate spoon for guests to easily put their chimichurri on their own plates.
I have always had to make extra chimichurri sauce so that guests have enough. Just double the recipe and keep an extra bowl in the fridge. You will be glad you did.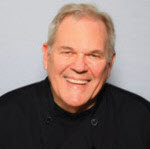 Send questions or your favorite recipes directly to: [email protected]. I look forward to hearing from you. Chef Alan