Kim and I had a fascinating day visiting farmers markets on the Big Island of Hawaii. We were amazed at the number of quality products from local farmers as well as local artists. Below are references to those that we found and others in the area that appear online.
Anyone living here, or visiting, should take some time to stop in at a number of the local farmer's markets. I have noted below a nonprofit organization committed to bringing local farmers together with folks who want to buy fresh organic produce.

KITCHEN OF CREATION Captain Cook,
Hawaii, 96704

808-896-7533

Email: [email protected]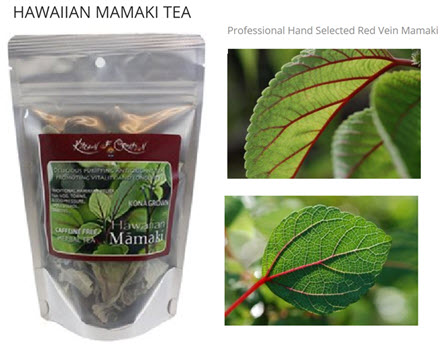 Kitchen of Creation's Quality Tea:

Professionals, with a decade of experience, hand select and process all organic fresh tea. These teas are grown on farms from all around Big Island Hawaii. Our products are subject to thorough quality inspections. We take pride in providing clean and safe products.
FRESHNESS GUARANTEED: ALL PRODUCTS ARE HARVESTED APPROXIMATELY EVERY WEEK.

We now offer the following products online:
Graviola Leaf tea (whole)
Lemongrass (cut)
Passion Leaf tea (cut)
Emails: [email protected]
Mamaki is considered to be one of the five native Hawaiian medicinal plants
808-896-7533
——— ——————— ———————— ———————— ———————
Yo Bagels HI
Aileen and Joe 973-313-2033 Pre-Order, Catering &Wholesale Available
973-313-2033 Pre-Order, Catering &Wholesale Available
Pre-Order, Catering &Wholesale Available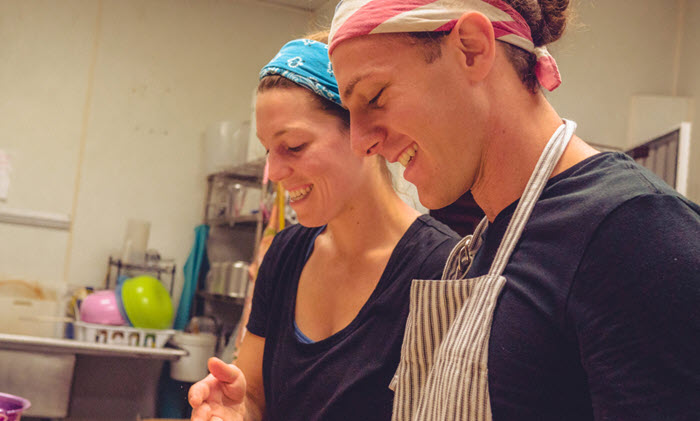 We are Aileen and Joe, official food fanatics from the East Coast who settled in Captain Cook, Hawaii back in 2014. Obsessed with food for as long as we can remember, we couldn't live without a classic New York style bagel.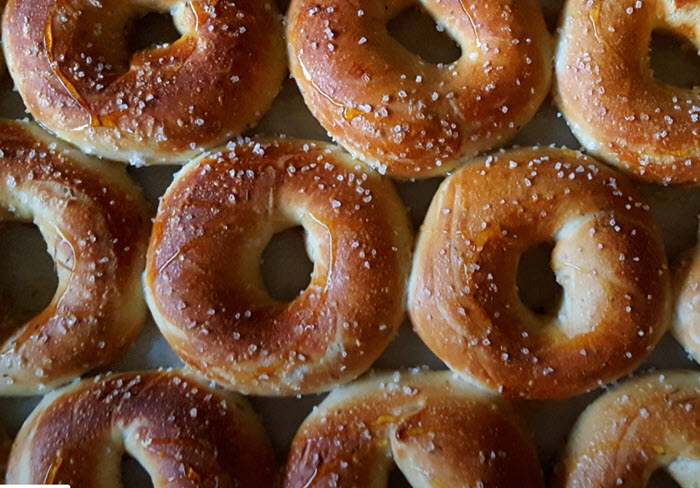 We even went so far as to transport bagels from New Jersey to Hawaii in our luggage after visits back East. Being avid home chefs, we decided to make some ourselves and voila! Bagel magic in South Kona.
After many tests and trials and only crumbs leftover from friend and family tastings, we decided to share one of our greatest triumphs in the kitchen. Serving 'em up fresh at farmers' markets, catering for private events, and wholesale to cafes, look for Yo Bagels and try an Everything!
WHERE TO FIND YO BAGELS
Yo Bagels are now available weekends at the Saturday Market in Keauhou and Sundays at the Pure Kona Market in Captain Cook. Find them throughout the week at Holualoa Gardens Coffeehouse in Holualoa. Call 973-313-2033 for a catering quote!
You can find Yo Bagels at:
——————— ———————— ———————— ———————
BIG ISLAND CREAMERY
bigislandcreamery.com
I am sure it is possible that somewhere, someone, may make tastier ice cream than the ice cream from Big island Creamery, but I sure have never tasted it and I have tasted a lot of ice cream all around the world.
I am sure the love that Markus and Laura have for each other is also the main ingredient in their ice cream recipe. Here is a note from their website: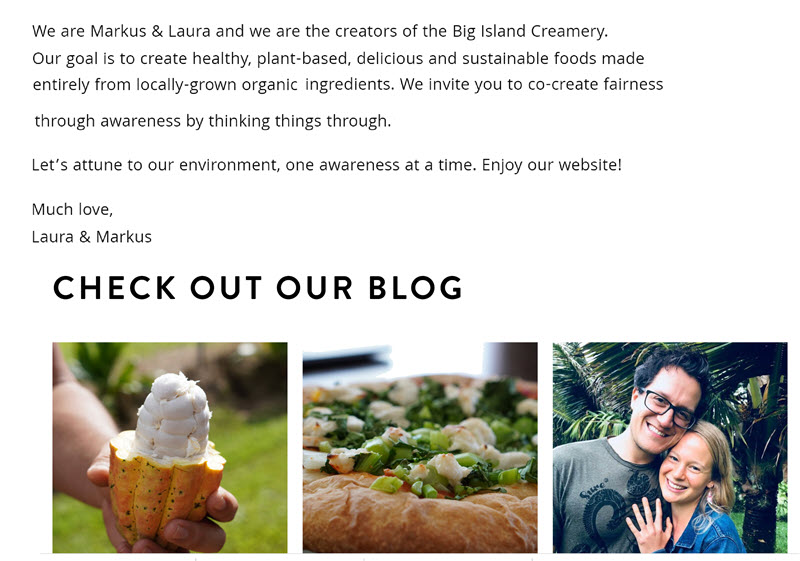 ___ ——————— ———————— ———————— ———————
HAWAII KOMBUCHA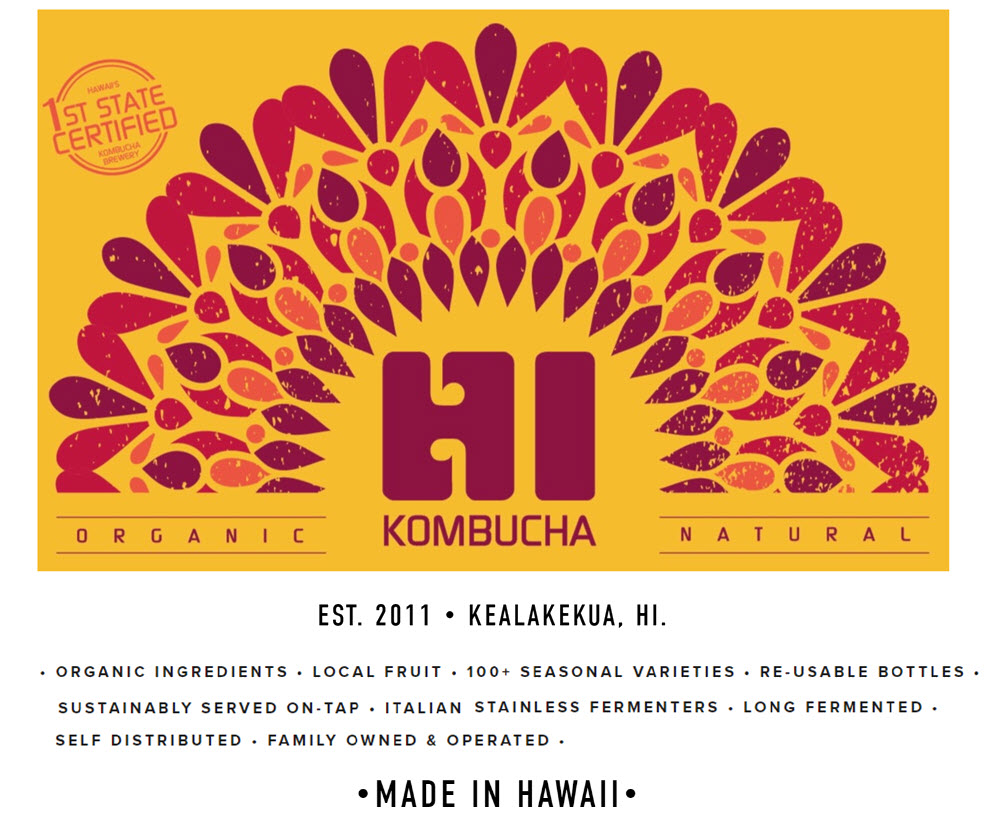 Quinn
HawaiiKombucha.com 808-557-8551
Made from single origin, fair-trade, organic, whole leaf, black tea.
Kombucha Hawaii is not sold in the mainland. They are a nano family-owned craft brewery, our focus is nourishing our local community.
Their products can be found at their owned and operated community focused organic cafe: kayas cafe, in South Kona. They practice local no-spray and naturally farmed food, a practice 'beyond organic'.
————————
TAI SHAN FARM
Kevin and Esther
www.taishanfarms.com
808-929-8913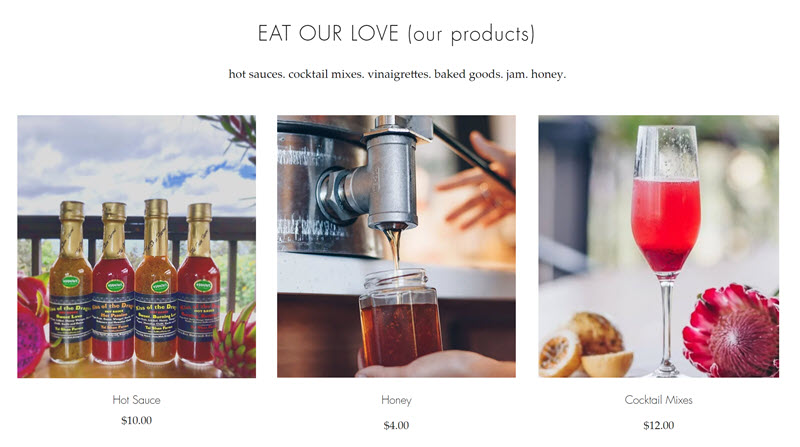 ———————— ———————— ———————— ————————
KONA ORIGINS
Coconut Milk Chocolate Bars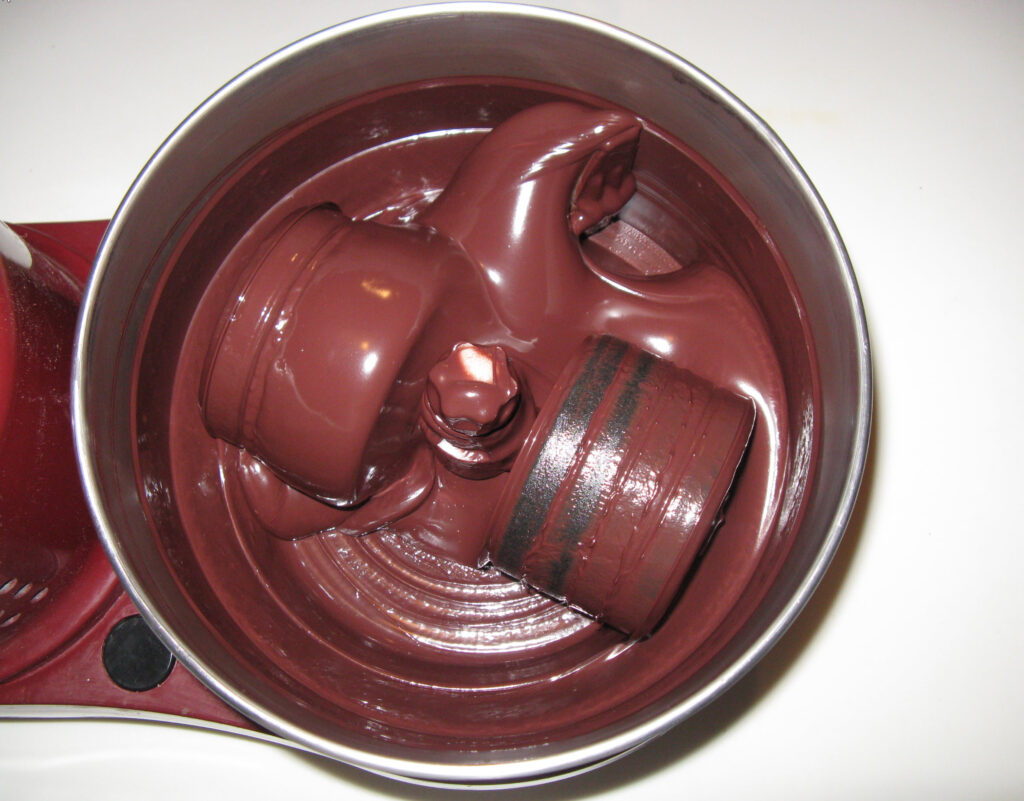 ——————— ———————— ———————— ———————
OHANA FARM ORCHARDS
John Giblin
Macadamia Nuts; Avocados; Coffee; Tropical Ice cream
Captain Cook, Hawaii 96704
808-328-0239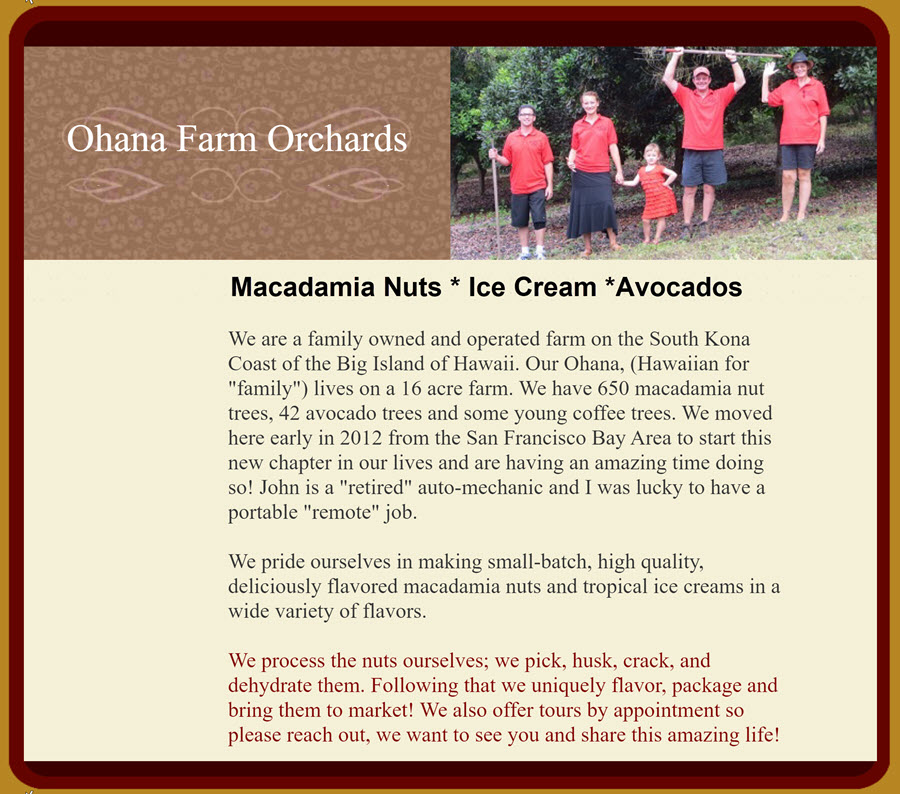 ———————— ——— —————— ——————— ————
WILD WAHINE CREATIONS
Michelle is a very creative artist incorporating the spirituality of the Hawaiian culture
Wild Wahine Creations
Michelle Acbari
808-798-9489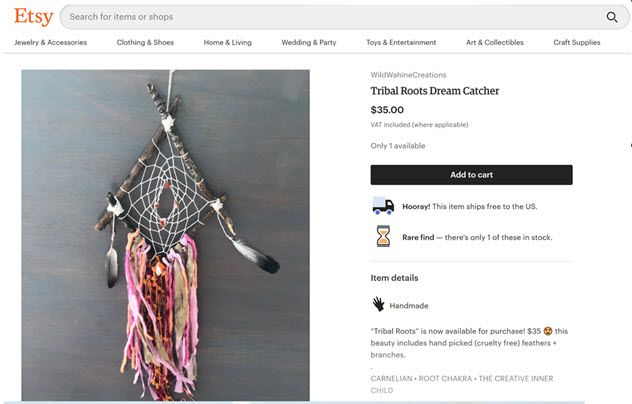 ——————— ———————— ———————— ———————