Congratulations Carol W. of Seattle WA . You are the winner of the 2020 Zox Kitchen Recipe Contest. We want to thank all of you that sent in your favorite recipes and photos.
I take great pleasure in notifying you, Carol, that your Banana Bread Recipe is our winner. My Team at Zox Kitchen found your recipe and photo to be among the most attractive submitted. After selecting the finalists and cooking each recipe, your Banana Bread Recipe was determined to be the tastiest. It was also selected as it is so simple and we would like all our readers to try it. I appreciate everyone's participation and interest and in our contest. Your recipe and photo is on display, as promised, here in the Zox Kitchen Blog for all to enjoy.
Grandma Cora's Banana Bread
Takes about 15 minutes to prepare.
Bake for 50-60 minutes.
Wait until you have 3-4 bananas that are really ripe!
INGREDIENTS
3-4 mashed, really ripe bananas (brown peels) will make 1 1/2 to 2 cups mashed.
1/2 cup melted unsalted butter (1/4 teaspoon kosher salt).
1 teaspoon baking soda.
1/2 cup sugar 1 teaspoon baking soda.
1 large beaten egg.
1 1/2 cups of all-purpose flour.
1 teaspoon vanilla extract.
¼ teaspoon ground nutmeg.
Prepare
Preheat oven 350°F
Butter 4×8-inch loaf pan
In a mixing bowl, mash the ripe bananas (with potato masher until smooth like mashed potatoes.
Stir in melted butter.
Stir in the baking soda and salt.
Stir in sugar, egg, and vanilla extract.
Mix in the flour and nutmeg
Pour the batter into the buttered pan.
Bake for 50 minutes to 1 hour at 350°F , (or until a toothpick inserted into the center comes out clean).
Remove from oven and let cool in the pan for five few minutes.
Remove the banana bread from the pan and let cool 30-60 minutes before serving.
Cut one-inch slices and serve.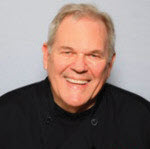 Send questions or your favorite recipes directly to [email protected]. I look forward to hearing from you. Chef Alan